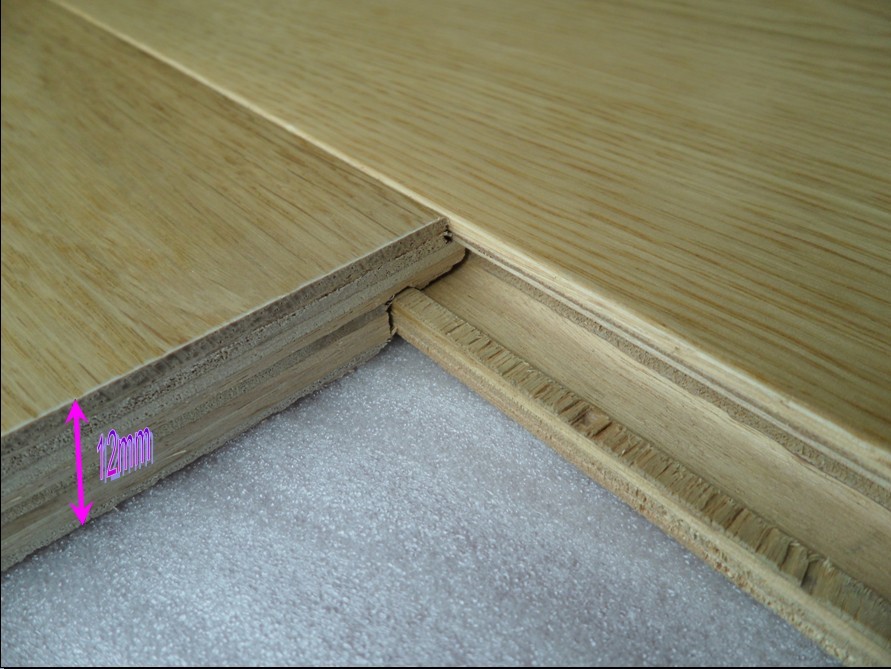 12mm multi-ply engineered flooring
12mm multi-ply engineered flooring comes in a width of 90/125mm, thickness of 12mm with a
top layer of 0.6/2.0/3.0/4.0mm and in a random lengths of 910- 2100mm.
Tongue & Groove or easy click locking system offer easy installation for customers.
Engineered Flooring Core: Eucalyptus wood or polar wood interlocking glued plywood.This structure is a
garantee of flooring stability in extrem humidity & temperature conditions.
Its bottom layer is 0.2-0.3mm european beech wood layer with water proof varnish as a proof of
dampness resist layer preventing the flooring board warping & bending.
The 12mm muti-ply wood floors from C&L hardwood in China are made by various hardwood
species &colors: Mahogany, Cherry, Oak ,Teak, Walnut, Acacia, Sapele,Kempas Merbau,Wenge etc.
The advantages of multi-ply engineered flooring
Multilayer engineered flooring is a new kind of wood flooring among hard wood flooring and laminate
wood flooring. Multiply wood floors keep the advantages and natural grain & color of hardwood floors,
perform a favorable stability and resist to mold,rotting, corrosion. It is also easy to clean and protect.
The construction of engineered wood flooring
Top layer of Environmental compatibility-Veneer layer
Multi-ply engineered wood floors' veneer is made by rare and expensive wood species. It keeps the
nature,dignity of hardwood and save precious wood on the other hand. With its environmental friendly,
natural grain & color and strict moisture content processing, people prefer to buy engineered wood floors
to decorate their houses.
Core layer of Value Innovation
The basic layer of engineered floors is totally out of high technique. It drastically change the traditional
thought of wood flooring. It makes use of reproducible wood species which is interlocking in order to
strength the balanceand get rid of anisotropy. The shrinkage rate of multi-ply wood floors is about
1/15-1/20 of hardwood flooring, which shows its high stability.The core wood is normally made of
high-quality wood of over 70 years. After rotary cutting process, soak process, cooking process and
drying process, it comes out perfectly with good performance.Wood of low density is used as core
materials at most, such as eucalyptus, pine and poplar.The number of layers is odd number, because
the middle layer is made for being centre of symmetry.
C&L hardwood is capable to process and source a great variety of such engineered timber
flooring from our China factories:
* 1 strip engineered floors with multiplybase(or 3 ply base)
* 3 strip engineered floors with multiply base(or 3 ply base)
* Hand scraped floating engineered flooring
* Wire Brushed engineered wood flooring
* Smooth Natural or Stained Engineered flooring
* Uv/pu/oiled surface engineered wood flooring
* Wide plank engineered hardwood floor etc

Product Room
Display 1 to 8 (Total 8 Products)
Page 1 Total 1 Page