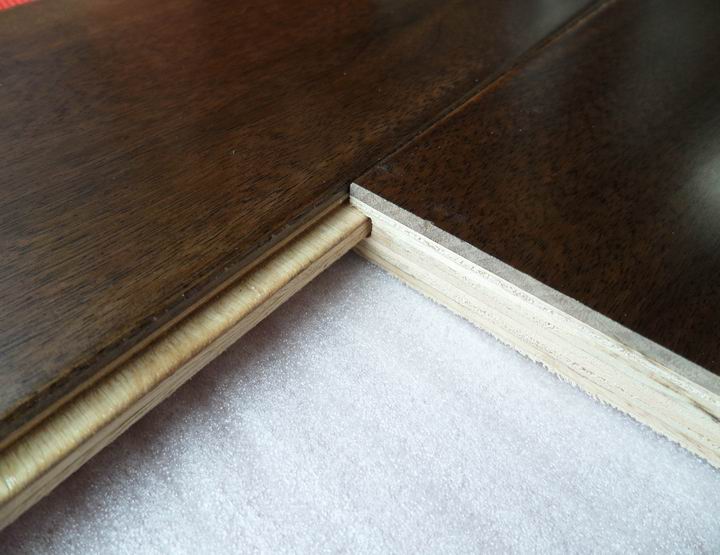 Engineered timber flooring is usually called floating timber floors in the Market of Australia because the engineered floor board is actually installed by a simple way called floating process which means you could put floating wood floor directly on the subfloor or base floor by a simple & easy installation method.
The engineered floating floor from C&L hardwood in China shares the features as following:
Real hardwood toplayer in Various Hardwood species & colors: Mahogany, Cherry, Oak ,Teak, Walnut, Acacia, Sapele,Kempas Merbau,Wenge etc.
Engineered Board Dimensions: 610x90x15mm,910x125x12/15mm,1210x165x15mm or other custom made size.
Joint System: Tongue & Groove or easy click locking system.
Toplayer thickness: 0.6mm,2mm,3mm or 4mm from rotary cutting or slice cutting machines.
Engineered Flooring Core: Eucalyptus wood or polar wood interlocking glued plywood.This structure is a garantee of flooring stability in extrem humidity & temperature conditions.
Engineered floating floor bottom: 0.2-0.3mm european beech wood layer with water proof varnish as a proof of dampness resist layer preventing the flooring board warping & bending.
C&L hardwood is capable to process and source a great variety of such engineered timber floating floors from our China factories:
* 1 strip engineered floors with multiplybase(or 3 ply base)
* 3 strip engineered floors with multiply base(or 3 ply base)
* Hand scraped floating engineered flooring
* Wire Brushed engineered wood flooring
* Smooth Natural or Stained Engineered flooring
* Uv/pu/oiled surface engineered wood flooring
* Wide plank engineered hardwood floor etc

Product Room
Display 1 to 2 (Total 2 Products)
Page 1 Total 1 Page