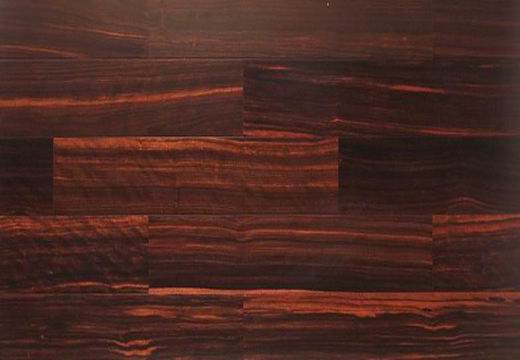 The highly valuable wood species Ebony comes more in hardwood engineered flooring Acacia flooring than solid 18mm hardwood floor as the Ebony no matter with Asia origin or Africa origin is really expensive.The estimated cost of raw wood will be about 40%-60% higher than burma teak.
The ebony supplied with either South East Asia Origin or Africa origin. Actually the genuine ebony refered to by most of the clients are Africa Ebony,specially for Madagascar Ebony which is the most impressive one with dark black & blood reddish strip grains.
Ebony is a wood with surprising high janka hardness & density(The wood density is higher than 1g/cm3) which means once the wood throw into water,it will sink but not float.(Look at below chart)
Ebony wood properties:
| | |
| --- | --- |
| | |
| Scientific Name: | Diospyros spp, Ebenaceae |
| Wood Origin: | Cameroon,Ghana,Nigeria,Zaire etc. |
| Density: | 1.03g/cm3 |
| Janka Hardness: | 3220psi |
| Usage: | Furnitures,Flooring,Musical Instruments,Crafts etc. |
| | |
C&L hardwood in China supply engineered masdagascar ebony wood flooring with T&G 610-910X125X15/0.6/2.0MM
In case of some clients looking for highly luxery genuine ebony solid hardwood floors, we process also the 18mm T&G solid ebony flooring according to requirments.But we should remind our client the dimensions of the board when we sourcing the ebony rough sawn wood board from the imported tropical hardwood local market in South China.After confirmation of updated ebony timber cost with client,we could move on to processing.

Product Room