Solid Timber Flooring Maintenance Tips After Installation
After solid timber flooring installation in your house,the flooring maintenance will be critical for you to enjoy the solid wood beauty for a long time.Currently there are several finish types applied on solid hardwood flooring surfaces, normally UV finished,Hardwaxed ,Oliled or even Unpolished according to clients unique requirment.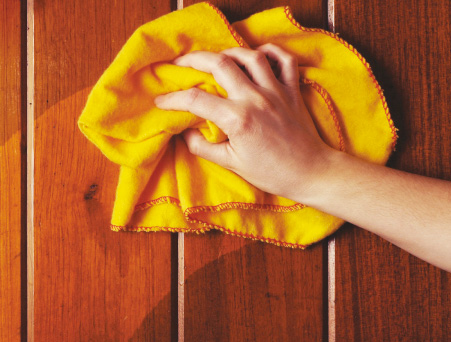 I. Solid timber flooring cleaning
Both UV finished & Oiled type solid timber flooring we could use vacuum machine to clean the debris on flooring away directly.When come to some stains which are difficult to clean by vacuum machine,a wet soft mop coloth is needed .Sometime the mop has to be dipped in soft detergent like soap water,if the stains on solid flooring are too difficult to clean.Anyway,try to use less water as long as you can as timber material always tend to adsord damness from nearby.
There are cases that a house installed with solid timber flooring empty for quite a long time,dirt & debris stayed too long on the wood flooring surface,large areas is covered by thick dirt & debris,while degreaser should be employed to clean the flooring.Mixed degreaser warm water and cleaning as carefully as you can.If some where on the solid timber fooring beeing serious damaged,like heavy denting,spoting etc,refinish will be necessary.Since refinish require sanding the timber,total thickness of the floor board is reduced,quite a few pieces of wood floor boards around this damage area all have to be replaced.
II. Solid timber flooring polishing
After the first step of cleaning,timber floor surface should be aplied with oile or wax as a proof layer to prevent dampness.Regularly 1-2 months in such a maintenance is suitable.If the plank floor you used has benn treated by oile or wax in the days before,a light polish with a little oil is enough,after that let the coating dry naturally.
Some more advices to Solid timber floor maintenance
1. keep the cleaning room in controlled humidity,even with mop,it should not be excess in dampness.
2. keep away very sharp & hard objects from hardwood floors,high heel shoes,pets,glass etc are not recommended to touch the floor.
3. In the whole year around keep your room ventilation system work properly,in rainy season,windows should be closed.Hot and dry season keep all windows open.Strong sunlight should be blocked by curtains ,it should not shine directly to the floor in case of hardwood floor movement or color change happens.
4.One year 2-3 times waxing should be garanteed to keep the fresh gloss of the timber flooring.
5.The legs of heavy chairs,sofa,cabinets etc should be pretected by soft foam cushion etc in case of scratch on timber floor surface.