Robinia (Mongolian/Chinese) Teak hardwood flooring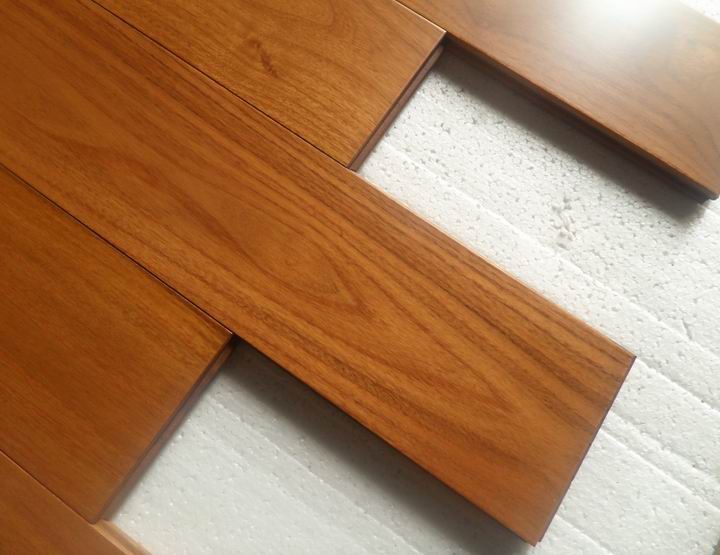 Smooth Clear Grade Golden Yellow 5" Robinia Hardwood plank floors (Above)
---
See more C&L robinia hardwood flooring styles as following:
Stained & Hand scraped 5" hardwood Robinia flooring (Above)
Robinia Hardwood which also called black locust wood is a very popular & durable hardwood floor material used in Aisa & South American Regions.
Robinia wood in the market of China is called Chinese teakl, the name of "Teak" is over praised as the wood has no relationship with True Teak(Tectona Grandis),but the wood in hardness & durability is good enough to be milled as hardwood flooring and with a life span over 25 years under proper maintenance.
The reason why robinia is called "chinese teak", all because of its golden color after perfinished. Clear grade robinia looks exactly to true prefinished teak solid wood despite its high density.
In general,Robinia hardwood is as good as small leaf acacia hardwood in quality.Common grade robinia wood is knotty,which is an ideal material processed as distressed & handscraped flooring.
C&L hardwood is capable to supply huge quantity of robinia hardwood Acacia flooring with RLx5"x3/4" or RLX3/3/4" X 3/4" Dimensions
AB/ABC Grade robinia wood is usually to be treated as hand scraped hardwood floors with many stains like Grey,Yellow,Brown,Black etc .
C&L HARDWOOD robinia flooring starts from price 2.9USD/S.Q.F,big volume buyer will enjoy more discount!
---
See More details of our Robinia Hardwood Flooring from our Alibaba Showroom>>>
---

Product Room
Display 1 to 6 (Total 6 Products)
Page 1 Total 1 Page