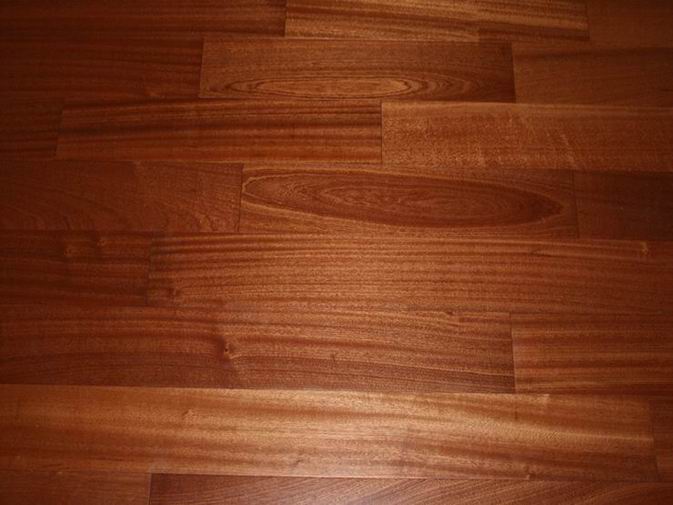 Sapele Wood Properties :
| | |
| --- | --- |
| | |
| Commercial Name: | Sapele |
| Scientific Name: | Entandrophragma cylindricum |
| Janka Hardness: | 1480psi |
| Wood Origin: | Africa |
| Rupture Strength: | 110550Kpa |
| Wood Density: | 0.55-0.65g/cm3 |
| Elastic Strength: | 11720Mpa |
| Shrinkage: | R 4.6% / T 7.4% / V 14% / T/R=1.6 |
Sapele is the wood widely used as veneers for furnitures,wall paneling, wood door, or engineered wood flooring as well as other interior decoration.
Sapele engineered wood fooring with blood reddish color is very similar to Santos Mahogany, while the little difference is the wood grain of sapele is more straight ,something like Iroko.
C&L hardwood in China supply both solid 18mm T&G sapele flooring & Engineered 12mm ,15mm sapele wood flooring with 0.6-3.0mm toplayer.
12mm engineered sapele wood flooring Acacia flooring with 1.5mm thickness has been used on big hotel projects in bulk quantity at very competitive pricing(1.65USD/S.Q.F).
Sapele solid wood floor demand in the market is on decrease as the raw material being used more for wood veneers.
If you are looking for an inexpensive wood with mahogany colors,sapele will be your first choice!
Sapele wood flooring from C&L hardwood comes in engineered ( 910x125x12/15mm,1210x165x15mm),or solid T&G RLX90/120X18MM etc.

Product Room
Display 1 to 1 (Total 1 Products)
Page 1 Total 1 Page