About American Walnut Timber Flooring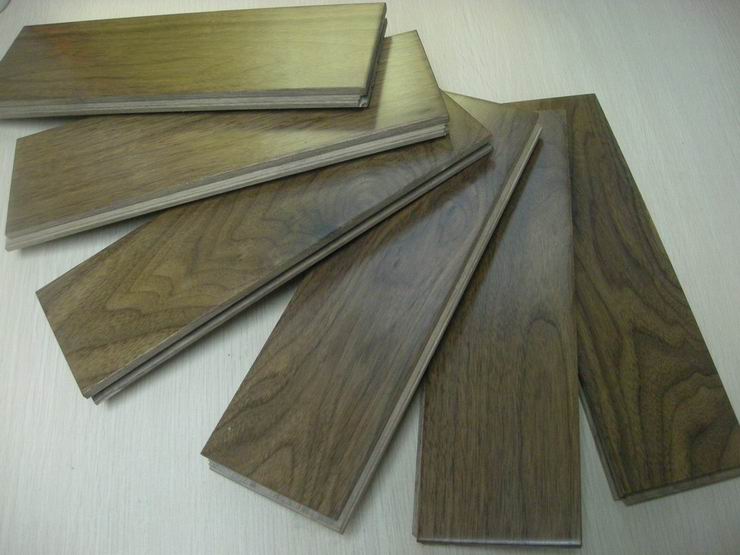 American Walnut timber flooring is a wood species with unique beauty and original dark wood color tones that you can seldom find from the other wood.
Prue A Grade walnut timber flooring without color varations is difficult to find as this timber species always comes in big color contrast from dark brown heartwood to cream white sapwood.The selected Grade American Walnut we refered to means less white sapwood and more heartwood.This is a very important point for buyer to take care of.To reduce such big color variations,China Acacia flooring wood flooring suppliers will steam the wood before dring process.However even after that,significant color varations on solid the walnut timber still can not be avoided.So before purchase,the buyer should require supplier show a big display but not a samll piece for this solid walnut wood flooring,then you will get a clear understanding of what wood flooring grain patterns you are buying.
Walnut timber do have exceptionary grains ,mostly comes with straight grain , a part of mountain grain,unqiue colors of golden brown color tones.
The weak point of solid American walnut flooring is the comparative soft in hardness with only 1010psi in janka rating,20% softer than oak.That means the wood is not so dent resistant,not high heel,high traffic resistant.Any buyer should take care of such weakness of the beautiful walnut flooring.Some people prefer to use handscraped or distressed walnut hardwood flooring,as this will reduce the wood flooring flaws after long period traffic.
On the other hand,walnut wood has a prominent advantage that other wood can not compare with- good stability & machinality. Both solid American walnut and engineered walnut flooring works very well on radiant heat conditions or in some dampness envioroment.Walnut wood not only used for solid timber flooring,but also used as veneer,worktop,door,cabinet,wood stair parts etc,the timber works very well good with most of machining tools.
---
Click HERE to see updated solid hardwood floor warehouse stock & pricings>>>
---

Product Room
Display 13 to 15 (Total 15 Products)