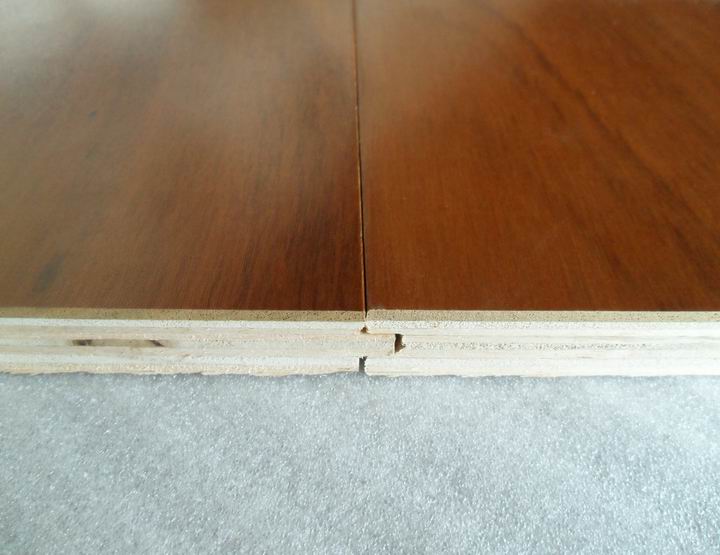 Multi-Ply Base Engineered Teak wood Flooring-Top quality floating timber floors

Toplayer Material: One strip Sliced Genuine Burma Teak Wood
Toplayer Thickness: 0.6mm,2.0mm,3.0mm,4.0mm etc.
Surface Gloss Level:25±% (Matt to Medium Gloss)
Joint Type: Tongue & Groove or Click Lock
Flooring Core: Eucalyptus & Polar Interlocking Glued Plywood in 9mm,11mm,13mm thickness
Bottomlayer: 0.3mm Varnished European beech wood veneer
Teak Engineered floating wood Floor Board Dimensions:
610x93x12mm,910X125X15mm/pcs, 1200X125X15mm/pcs,1210x165x15mm/pcs(3 strip) etc.

C&L hardwood engineered teak wood flooring can satisfy our clients' desire for hardwood true teak flooring but with limited budget.The teak wood overlay engineered flooring has the same beauty to solid burma teak but with only half cost to true solid 18mm burma teak flooring.
As teak is always prized as one of the best hardwood flooring material for under ground heating,engineered teak floor with 2-3mm toplayer become the most idea alternative floating floor material for expensive 18-19mm solid burma teak flooring.
You can choose either floating or glue-down installation method to put the unique burma teak engineered wood flooring in you house.C&L hardwood is also capable to produce glueless click lock engineered teak wood floors with easier installation process & better eco friendliness.

Product Room
Display 1 to 2 (Total 2 Products)
Page 1 Total 1 Page